The minimalist European tree is rising.
The Fraser fir is popular among American consumers looking for beautiful, long-lasting Christmas trees. Consumers favour the Fraser fir for its conical shape, dark green foliage, nice Christmassy smell, and excellent needle retention. Growers like it because it is tough and it ships well.
The Fraser fir is actually a native plant of the USA and Canada. However, seeds were taken back to Europe a long time ago when some smart cookie realised it was the perfect Christmas tree. Business boomed. It is now grown in plantations in Scotland and Ireland and sold by the thousands throughout the United Kingdom, Ireland and France.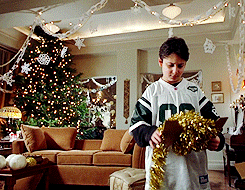 The Fraser fir which is sold in the U.S. is much more boofy than the European tree, due mainly to the way it is pruned while growing. Traditionally, Americans have preferred dense trees, whereas Europeans have preferred more natural, or "open" trees. Open trees have more space to hang ornaments, holding up to two-thirds more decorations than boofy trees. They also tend to weigh less than dense trees, providing advantages for both growers and buyers.
But now, Americans are starting to want a more minimal tree, European style. They are becoming more about the ornaments, and less about the boof. And recent consumer survey results have backed this up. U.S. growers are now scrambling to satisfy this new Christmas-tree fashion.
Scientists have been called in to help invent a device to shape Fraser firs to satisfy new public preferences. Newly-planted firs will be ready to buy in around seven years, so in the meantime, cutting the existing trees into a more European style needs some know-how and fast.
Elizabeth Rutledge, a graduate student in the Department of Forestry and Environmental Resources North Carolina State University, has invented such a tool for shaping the trees as they grow. It is called a Top-Stop Nipper (TSN). It is a four-bladed, hand-held tool used to reduce growth in Christmas trees.
The researchers found that use of the TSN will produce a more open "European-style" tree with a layered, natural appearance. So far, use of the Top-Stop Nipper shows promise for tree growers. One thing is certain: Americans can look forward to new and improved decorating as they catch on to the European way. Get thee to the bauble shop, Americans!